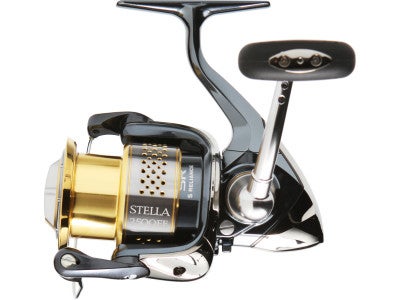 I recently read somewhere that at one point or another, every young boy dreams of being president of the United States.
I can assure you that is not true, at least for me.
Although I've never had any aspirations of being Commander-In-Chief, I can recall countless times thinking about what it would be like to have a Shimano Stella strapped to a Loomis GLX (up until a year ago this was the top dog Loomis, but not anymore).
This combination is probably a little out of a 15 year-old's league, and as I grew older, I didn't foresee a time when I was going to be able to justify spending that kind of money on one rod and one reel.
Then I met Lindsay.
It wasn't long after we met that it became apparent Lindsay and I were going to spend the rest of our lives together. About a year ago, as we were starting to think about an engagement, she promised to buy me Stella and the Loomis as an engagement present.
As most of you already know, I presented her with a ring a couple months ago and she said "yes."
Lucky for me, she is a woman of her word.
Even luckier for me is that 2010 was a special year in the Shimano/Loomis camp, as they unveiled the new Stella FE and Loomis NRX spinning/casting rods at this year's ICAST. Both the Stella and the NRX took "Best In Show" and mark the absolute top-of-the line in freshwater gear in North America.
So, yesterday, December 27th, Tackle Wareshouse in California shipped said rod and reel to New Jersey, for me. It's something that I've dreamed of for a long time but never thought would actually happen, but then again, I never could have imagined finding someone as wonderful as Lindsay.
A Happy and Healthy New Year's to all!!!!!!
Next Up:
Flying to Park City, Utah on Thursday to see Brian and Chrissy get married. I'll be back on the ice the week I return, most likely with Chris Martalus.